UPDATES / MISES À JOUR ;

October 16, 2016 / 16 octobre 2016

- New Westminster (BC)
- Vancouver (BC)
- Cité de Saint-Michel (QC)

October 15, 2016 / 15 octobre 2016

- CN - Canadian National Police (CA)
- Manitoba Conservation (MB)
- Winnipeg (MB)
- London (ON)
- St.Thomas (ON)
- York Regional (ON)

October 7, 2016 / 7 octobre 2016

- Pêches et Océans/Fisheries and Ocean Canada
- Sainte-Anne / Ste. Anne (MB)
- Sûreté du Québec - district 8 (QC)
- Châteauguay (QC)
- Granby (QC)
- Le Gardeur (QC)
- Mont-Tremblant (QC)
- Thérèse-de-Blainville (QC)
- Beaconsfield Sécurité publique/Public Safety (QC)
- STM (QC)

October 2, 2016 / 2 octobre 2016

- Miramichi (NB)
- Garda / Garda World (QC)

September 30, 2016 / 30 septembre 2016

- Vancouver Parks & Recreation Park Ranger (BC)
- White Rock ByLaw Enfrocement (BC)
- Sûreté portuaire de Montréal (CA)
- Newfoundland Corrections (NL)
- Newfoundland Sheriff Office (NL)
- Sécurité publique / Public Safety Côte St-Luc (QC)
- Estevan (SK)

September 23, 2016 / 23 septembre 2016

- Ministry of Transportation (ON)
- Aylmer (ON)
- Durham Regional Police (ON)
- Ministère de la Sécurité publique (QC)
- Ville de Québec / Quebec City (QC)
- Sécurité publique DDO / DDO Public Safety (QC)
- Weyburn (SK)
- Global Transportation Hub (SK)

September 15, 2016 / 15 septembre 2016

- Toronto Police (ON)
- Toronto - Mobile Crisis Intervention Team (ON)

September 11, 2016 / 11 septembre 2016

- Beaumont Municipal Enforcement (AB)
- Sécurité publique d'Estérel (QC)
- L'Assomption/Saint-Sulpice (QC)
- Saint-Jean-sur-Richelieu (QC)

September 8, 2016 / 8 septembre 2016

- CBSA / ASFC
- Hanover (ON)
- Ministry of Natural Ressources / Conservation (ON)
- Hydro-Québec (QC)
- Université de Sherbrooke (QC)
- Mont-Tremblant (QC)
- Saskatchewan Conservation Officer (SK)
- Regina (SK

August 31, 2016 / 31 août 2016

- CBSA / ASFC
- Fredericton (NB)
- Saint John (NB)
- Waterloo Regional (ON)
- Regroupement des services d'habitation (QC)

August 18, 2016 / 18 août 2016

- Laval (QC)
- Windsor (ON)

July 31, 2016 / 31 juillet 2016

- Kahnawake Peacekeepers, QC
- Lévis, QC
- Agglomération de Longueuil, QC
- Winnipeg Transit, MB
- Terrebonne, QC

July 13, 2016 / 13 juillet 2016

- Bureau de taxi de Montréal / Montreal Taxi Bureau
- Westmount Public Safety / Sécurité publique de Westmount (QC)

July 2, 2016 / 2 juillet 2016

- SOUTH COAST BRITISH COLUMBIA TRANSPORTATION AUTHORITY POLICE SERVICE
- CBSA / ASFC
- Timmins, ON
- Truro, NS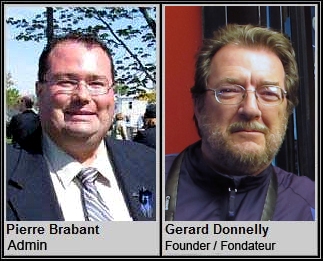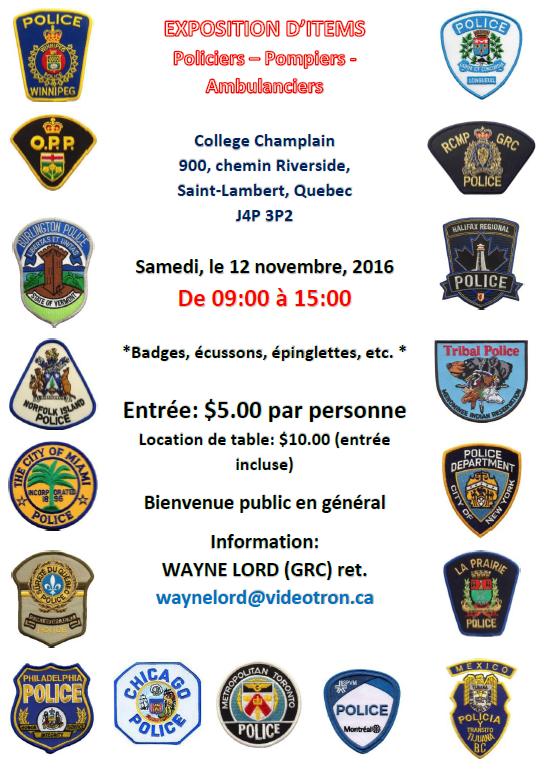 _ _ _ _ _ _ _ _ _ _


It's in the late 90s that was born a website dedicated to police vehicles. At that time, it was hosted as subdomain on free sites providers and was hosted alternately on Yahoo, Tripod and many others. It was only in 2002 that Gerard Donnelly officially created POLICECANADA.CA with its own URL and its own dedicated server. It has since evolved to become the Canadian reference site for police vehicles enthusiasts and even by the police departments. With an average of 11,000 visits per month this site is still of great interest.
I thank all of those who contribute to the success of this site for all these years and reiterates the need to supply this site with photos of old and new police vehicles.
_ _ _ _ _ _ _ _ _ _
C'est vers la fin des années 90 que naissait un site consacré aux véhicules de police. À cette époque, il était hébergé en sous-domaine de pourvoyeurs de sites gratuits et fut hébergé tour à tour chez Yahoo, Tripod et bien d'autres. Ce n'est qu'en 2002 qu'officiellement Gerard Donnelly créait POLICECANADA.CA avec sa propre identité et son serveur dédié. Depuis, il a beaucoup évolué pour devenir le site de référence canadien pour les passionnés de véhicules de police et même les corps policiers. Avec une moyenne de 11 000 visites par mois il suscite toujours un vif intérêt.
Je remercie tous ceux qui collabore au succès de ce site depuis toutes ces années et réitère le besoin d'alimenter ce site par vos photos de véhicules de police anciens et nouveaux.


_ _ _ _ _ _ _ _ _ _
Wallpapers
Fond d'écran
Weyburn (SK)
1920x1080